Homes For Sale In Portsmouth, VA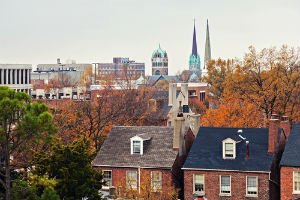 One of the most livable cities in the Hampton Roads region, this city is an ideal destination for families, young professionals, military service members and their families. Homes for sale in Portsmouth, VA are located in a historic city that boasts a robust economy as well as a low cost of living and a bevy of cultural and entertainment options nearby.
Portsmouth residents enjoys acclaimed public schools and colleges and a superb transportation infrastructure. With its thriving economy, family-friendly appeal and variety of real estate options to explore, Portsmouth stands out as one of the finest cities in the Hampton Roads area.
Keep reading to learn more about the homes for sale in Portsmouth, or browse the real estate listings below.
View Portsmouth Homes for Sale
November 29, 2023
View Portsmouth Homes for Sale by Price
Register today and you'll never miss out on another Portsmouth real estate listing. Sign up for free, instant alerts on price reductions and new homes on the market.
Homes For Sale in Portsmouth, VA
Homes for sale in Portsmouth, VA are ideal for all sorts of homebuyers. Properties in the city enjoy solid value, low interest rates and very reasonable prices. Options include single-family homes in leafy, tree-lined neighborhoods, condos close to Downtown Portsmouth and major amenities and attractions and other affordable options like duplexes, starter homes and much more. Styles, interior designs and price options are available to suit homebuyers of all sorts of personal tastes and financial budgets.
Portsmouth History
The city was first settled around 1620, due to its strategic location along the Elizabeth River in the Hampton Roads area. Founded as a shipbuilding center, it prospered and was formally established in 1752. The city bore witness to the historic Battle of Hampton Roads in the Civil War and later thrived as a hub for shipbuilding, commerce and industry after the war and well into the 20th century. Today the city is known for its robust economy and family-friendly amenities, making it one of the state's most coveted locations to relocate.
Living in Portsmouth Homes
Portsmouth homes offer close proximity to many local parks, golf courses, nature trails and public spaces, not to mention the beautiful beaches of nearby Virginia Beach. Local parks and public spaces include Portsmouth Splash Park, Churchland Park, City Park, Maplewood Park and many others.
Residents enjoy easy access to a wealth of local attractions such as the Virginia Sports Hall of Fame and Museum, the Portsmouth Art and Cultural Center, the Children's Museum of Virginia and historic Olde Towne Portsmouth.
Events and activities in Portsmouth include a Memorial Day parade, the Umoja Festival, the Olde Towne Portsmouth Farmer's Market, concerts at the nTelos Wireless Pavilion and much more.
Thanks to its booming economy, affordable real estate options and prime location in the heart of the Hampton Roads area, Portsmouth is one of the most desirable locations for real estate in Virginia. Get in touch with a local REALTOR® to find your Portsmouth home.