Norfolk, VA Real Estate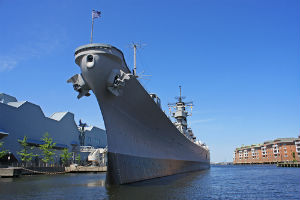 Located in the heart of the flourishing Hampton Roads area of Virginia is one of the state's most desirable cities. This city boasts a thriving economy anchored by national security as well as manufacturing, trade and technology. The world-class transportation network includes Norfolk International Airport, Amtrak, Hampton Roads Transit and Interstate 64, all of which lead to the amazing opportunities of Norfolk, VA real estate.
In addition, the city offers a low cost of living, easy access to beautiful beaches and close proximity to nearby attractions, amenities and other regional cities such as Newport News, Virginia Beach and Portsmouth.
Keep reading to learn more about life in Norfolk, or browse through the real estate listings below.
View Norfolk Homes for Sale
November 29, 2023
Be the first to know about new Norfolk, VA real estate listings. Register for a free account to get instant email alerts on new homes!
Norfolk Real Estate
Norfolk real estate choices are ideal for families, commuters, young professionals and military service members and their families stationed in the region. It's an area prized for its coveted location, strong value, and affordable price.
The homes themselves come in a wide array of styles and include waterfront properties, single-family homes, multifamily homes and modern condominiums. In addition, Norfolk property owners enjoy some of the lowest interest rates in the region, making homeownership affordable and practical.
Get the help of a local expert to find your own Norfolk home.
Living in Norfolk Homes
Norfolk boasts an extensive history that dates back to the colonial period. The city was first settled around 1619 and officially founded in 1682. It thrived in its early years on trade and agriculture, and saw considerable action in both the Revolutionary War and later in the Civil War.
The city soon became a major industrial and shipping hub, playing a vital role in both World Wars as well as in the Cold War. Today it is known as one of the state's most desirable cities thanks to its strong economy, modest cost of living, and high quality of life overall.
Enjoying Norfolk
The city enjoys close proximity to Virginia's golden beaches and array of outdoor activities like fishing, boating, sunbathing and water sports. Hampton Roads and the Elizabeth River offer some of the best fishing in the region as well. Norfolk offers beautiful parks and public spaces to enjoy such as Town Point Park, Washington Square, the Virginia Zoological Park, the Norfolk Botanical Gardens and many others.
The city is rich with attractions of every kind. The lush Norfolk Botanical Garden and the Virginia Zoological Park are perfect places to relax, while top-notch cultural attractions abound such as the Chrysler Museum of Art, the Nauticus National Maritime Center and the historic Harrison Opera House.
Many festivals and events take place in Norfolk throughout the year. Just a few of these include famed Norfolk Harborfest, the Bayou Boogaloo and Cajun Food Festival, the Parade of Sail, performances at cultural institutions and much more.
Start your home search today. Contact a PerfectHouse Team local expert to get the answers to your questions.